Straight teeth with a small budget
---
---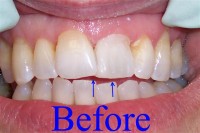 Many people today are unhappy with their smiles, but do not always have the funds for porcelain veneers or orthodontics. This does notnecessarily mean that they must make peace with their skew teeth and 'tight-lip' smile either.
One must always remember that there are more than 1 option..
What should you do then?

First you needto at least see a cosmetic dentist for a SMILE CONSULTATION and find out what your options are to get the smile you so much long for.
The best way will be to SAVE for the ideal option, because this will also be the more long term choice. Today there are many ways to budget orotherfinancial optionsto help you with cosmetic dentistry. If you can not afford to have Porcelain veneers or crowns done, here is the SECRET:
.
Composite Bonding or Composite Veneers
.
..
.
.
.
.
This remarkable technique can deliver exciting results and to top it off, all in just 1 visit! To learn more about this technique please visit 'dental info' on the website.
---