Whitening Strips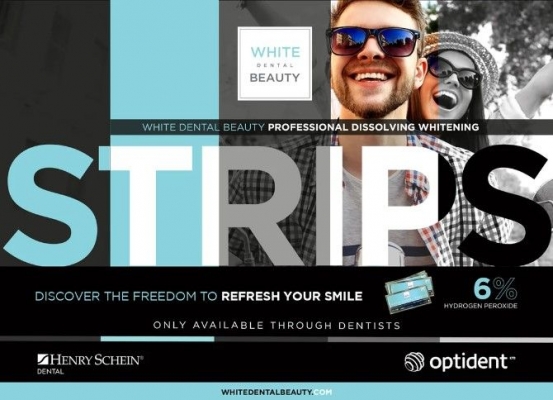 Teeth Whitening Strips are the latest addition (2023) to professional teeth whitening products in South Africa.

These whitening strips can be a great add-on to your whitening options if having white teeth is one of your top priorities. Teeth whitening is never a once-off procedure as our teeth are constantly under attack to become stained.

Smoking, tea, coffee, curry and red wine are some of the outside factors we expose our pearly whites to on a daily basis.

How does it work?
Just peel the Whitening Strip and place it over your front teeth. Wait 15 minutes and see the effect! The Strips are developed to work quickly and effectively to deliver professional-grade whitening in the convenience of a strip you can wear anytime, anywhere. With a combination of 3 phosphates the whitening process is accelerated and whitening can be achieved in as little as 15 minutes!


Who Will Benefit From This?
People who want a gentle Whitening

(6% Hydrogen Peroxide)

for everyday use

Anyone who had bleaching before and needs a touch-up

Regular smokers who want whitening maintenance

People with sensitive teeth that cannot have traditional whitening

Professionals who want a whitening option in their handbag

If your dentist/Hygienist has referred you
How can I get the Whitening Strips?
These White Dental Beauty Strips are only available when visiting the Oral Hygienist for a Superior Clean. It is important to note that Whitening strips do not replace regular Teeth Whitening Services as the concentration is very low and is not a customized solution as our other Teeth Whitening options.
Price: R700 (1x week supply) (2023)
Only available as part of our 'Super White Clean' Option
---