Custom Tray Teeth Whitening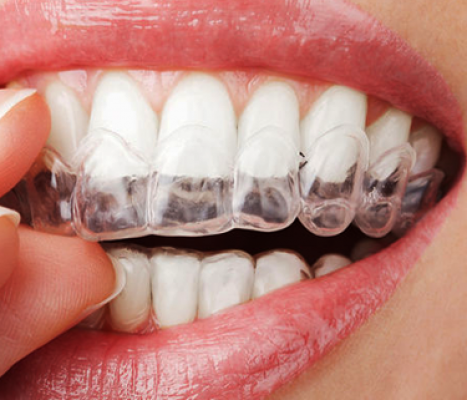 Most Popular Option World Wide!
Unlike other over-the-counter products that provide standard 'boil and fit' or a just 'one size fits all' approach, this professional 'dentist only' system provides you with your own unique custom-fitted whitening trays.
The custom trays are crucial in providing a 'snug' fit and thus preventing saliva from leaking in and cause a 'diluting-effect'. This customized "Take-Home-System" is so effective because everything about it is customized. That means it is tailor-made for you, your smile and your lifestyle!

---
The 2-Step Process:
Impressions are tak

en of your teeth. This allows us to make a custom-fit gel holding

appliance called a

whitening

tray

.

You will receive your whitening trays and a complete kit with detailed instructions to start

whitening your teeth straight away.


The Whitening Gel:
We use the same whitening gel as shown in ABC's Extreme Make-over program. In our experience, this gel, 'DayWhite' (9,5% Hydrogen Peroxide) provides superior whitening results in take-home whitening.


In The Comfort of Your Own Home!
The whitening is done by yourself in the comfort of your own home! The detailed instructions make it easy to use and custom fabricated tray whitening is still the "Gold Standard" in teeth whitening worldwide today. This means that it is easy, safe, reliable and a true longterm investment as you get to keep the trays for re-use later in life! You are always in full control of the procedure and can determine how white and bright you want your teeth to be.

The length of the treatment can be anywhere from 7 - 21 days, depending on the starting shade and methods of use. For the best results, we recommend that you have an examination and teeth cleaning session before you start the whitening treatment.

---

R2699 (2021 prices)
To get this for only R1800, see our Unlimited Whitening!

To start whitening your teeth, make an appointment today.
CAPE TOWN DENTIS
---