Dental IQ – February 2011
---
---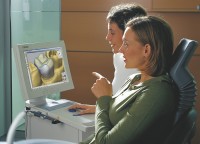 Regular dental visits and a scrupulous home hygiene program can keep your breath fresh and your smile sweet! How's your DIQ –
Scroll over pictures to view answers
Dental Intelligence Quotient?
Take our quiz and find out…
1) With CEREC Computerized Fillings and crowns there are:
b) Only one visit needed
c) No laboratory involve
d) All of the above
.
2) Teeth whitening is the nr. 1 requested dental service by patients and:
a) Is only for young people's teeth
b) Is costing well over R2000
c) Only last a few months
d) Tray whitening is the most popular option
.
3) Teeth grinding affects many people world wide and is responsible for:
a) Chipping and breaking of dental crowns and veneers
b) An old, 'worn-down' look
c) Cracks in enamel of teeth
d) All of the above
.
No matter what your score, just remember to brush, floss and rinse, and never share your toothbrush! Oral bacteria can be passed to others which can potentially spread periodontal disease!
---