Dentistry diminish profession in SA
---
---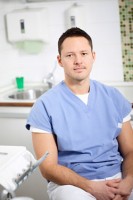 Dental practices in South Africa are going bankrupt and fewer people are entering the profession, the SA Dental Association (SADA) said on Friday. "In the context of the current economy and the pressure brought about by medical schemes which are not providing adequate cover for essential dental procedures, the man in the street is placing dentistry low on the list of essential needs," said SADA chief executive Maretha Smit.
She said payouts from medical schemes to dentistry had been reduced from 8.4 percent in the late 90s to 2.2 percent last year. Chief Dental Officer at SADA, Jeff Michelson, said dentists were forced to choose between affluent patients who could afford to pay fees that would bring an acceptable profit, or to lower standards, use inferior material and offer substandard service to their clients. Smit said the way in which reality television was portraying dentistry was distorted.
.
"We are gravely concerned about media reports that South African dentists are smiling because of the profits they are making." She said the public had to be made aware that the dentistry profession was under threat. "Unless the crisis in dentistry is addressed soon there will be no smiles from anyone around and the question will be whatever happened to the tooth fairy." – Sapa
.
---