Dentists depart in dismay as share of medical aid pie shrinks
---
---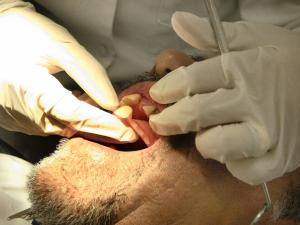 The exodus of dentists to other countries and industries is on the rise as the profession suffers diminishing cash flows due to reduced medical scheme pay-outs, according to the SA Dental Association (Sada). Although there were 5 500 dentists registered with the Health Professions Council of SA, no more than4200 still practiced in the country, the association said this week.
.
Last year's Adcorp employment index showed that South Africa's health-care sector had chronic shortages of dentists, doctors, pharmacists and emergency care professionals. "The problem is that we are training people who do not stay in the country because they are highly sought-after overseas and the practice in South Africa is not lucrative enough for them to stay," Sada chief executive Maretha Smit said. Sada blamed this on reduced pay-outs to dentists by medical aid schemes. Smit said dentistry pay-outs accounted for 8.4 percent of health-care expenditure by schemes in the late 1990s.
.
According to the annual report of the Council for Medical Schemes (CMS), pay-outs to dentists accounted for only 2.3 percent of total health-care benefits paid from schemes' risk pools in 2010. Pay-outs to dental specialists amounted to 0.6 percent. The two categories received the smallest share of health-care expenditures by the medical schemes, while dentists were the fifth-highest benefit paid from members' savings accounts at 9.3 percent. Jonathan Broomberg, the chief executive of Discovery Health, said the tariff payments by the scheme to dentists had consistently kept up with inflation, and dental benefits had been maintained consistently. "It is true that dental claims have (been shrinking) as a proportion of total claims paid, but this is not due to the reduction of payments to dentists. This is rather because expenditure on other claims categories, such as sophisticated new medicines and technology, and hospitals, has been rising faster than inflation for several years."
.
Smit said it was time scheme members called for the restructuring of benefits in the area of basic medical care or there "will be very few dentists left in the country as they cannot afford any further losses". "Dentists in South Africa
are by no means smiling. The high outlay for basic equipment and the staggering costs of materials, most of which are imported from abroad, leaves very little room for a fair profit," Smit said. According to the Department of Health's 2005 oral health strategy, individual oral health treatment options were not available to most people and there were very few promotive and preventive activities. The use of dentist benefits by scheme members has also been slack. The CMS annual reports showed that the average number of visits to a dentist remained unchanged from 2008 at 0.5 per beneficiary a year. – Londiwe Buthelezi
.
http://www.iol.co.za/business/business-news/dentists-depart-in-dismay-as-share-of-medical-aid-pie-shrinks-1.1210940
---