Do I need to Whiten my teeth first before I can get VENEERS?
---
---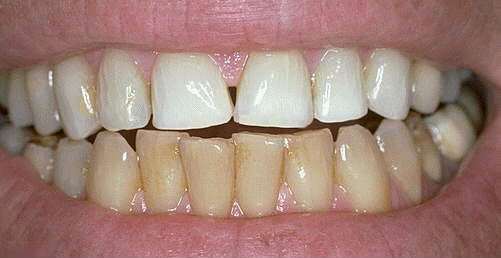 Porcelain Veneers are really great and can change your smile instantly! The important thing is to have an evaluation first to check your teeth properly together with your smile to see if all is possible.
The other thing is to learn as much as possible on the subject to make the best decision.
To help you with this please check out the links below about dental veneers:

Dental veneers. What are they?
Resin veneers or Bonding? What are these?



Treatment options:

When doing cosmetic Dentistry we always want to get your teeth

as white as possible

before we attempt any veneers or Bonding.

Why?
Only natural teeth will whiten and if you ever want to whiten your teeth after your veneers or bonding you would have to redo the work.

Whitening your teeth will also give us the base colour to which all your veneers and dental work are match to.
Example: You don't want to have your front teeth beautiful and white and the rest yellow.(artificial look)
This means that you must consider teeth whitening first as an option.
Our Zoom whitening is great and is the quickest way to a white smile! Click below for details:
http://www.myteeth.co.za/index.php/myteeth/secondary/in_office_zoom/
---