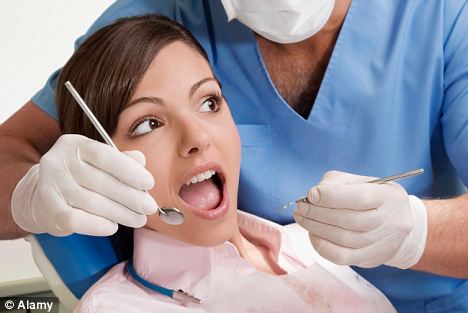 What is Gingivitis and what causes Gingivitis?
.
Gingivitismeans inflammation of the gums (gingiva). It commonly occurs because of films of bacteria that accumulate on the teeth – plaque; this type is called plaque-induced gingivitis. Gingivitis is a non-destructive type of periodontal disease. If left untreated, gingivitis can progress to periodontitis, which is more serious and can eventually lead to loss of teeth.
.
A patient with gingivitis will have red and puffy gums, and they will most likely bleed when they brush their teeth. Generally, gingivitis resolves with good oral hygiene – longer and more frequent brushing, as well as flossing. Some people find that using an antiseptic mouthwash, along withproper tooth brushing and flossing also helps.
In mild cases of gingivitis, patients may not even know they have it, because symptoms are mild. However, the condition should be taken seriously and addressed immediately.
.
According to Medilexicon's medical dictionary:
Gingivitisis: "Inflammation of the gingiva as a response to bacterial plaque on adjacent teeth; characterized by erythema, edema, and fibrous enlargement of the gingiva without resorption of the underlying alveolar bone."
.
There are two main categories of gingival diseases (1999 World Workshop in Clinical Periodontics):
Dental plaque-induced gingival disease
Gingivitis caused only by plaque
Gingivitis caused by systemic factors
Gingivitis caused by medications
Gingivitis caused by malnutrition
Non-plaque induced gingival lesions
Gingival diseases – caused by a specific bacterium
Gingival diseases – caused by a specific virus
Gingival diseases – caused by a specific fungus
Gingival diseases – caused by genetic factors
Gum inflammations caused by systemic conditions
Gum inflammations caused by traumatic lesions
Gum inflammations caused by reactions to foreign bodies
Gum inflammations without known causes
.
What are the signs and symptoms of gingivitis?
A symptom is something the patient feels and describes, such as painful gums, while a sign is something everybody, including the doctor or nurse can see, such as swelling.
.
In mild cases of gingivitis there may be no discomfort or noticeable symptoms.
.
Signs and symptoms of gingivitis may include:
Gums are bright red or purple
Gums are tender, and sometimes painful to the touch
Gums bleed easily when brushing teeth or flossing
Halitosis (bad breath)
Inflammation (swollen gums)
Receding gums
Soft gums
.
What are the causes of gingivitis?
The accumulation of plaque and tartar
The most common cause of gingivitis is the accumulation of bacterial plaquebetween and around the teeth, which triggers an immune response, which in turn can eventually lead to the destruction of gingival tissue, and eventually further complications, including the loss of teeth.
.
Dental plaqueis a biofilm that accumulates naturally on the teeth. It is usually formed by colonizing bacteria that are trying to stick to the smooth surface of a tooth. Some experts say that they might help protect the mouth from the colonization of harmful microorganisms. However, dental plaque can also cause tooth decay, and periodontal problems such as gingivitis and chronic periodontitis.
.
When plaque is not removed adequately, it causes an accumulation of calculus (tartar – it has a yellow color) at the base of the teeth, near the gums. Calculus is harder to remove, and can only be removed professionally.
.
Plaque and tartar eventually irritate the gums.
.
Gingivitis may also have other causes, including:
Changes in hormones – which may occur during puberty, menopause, the menstrual cycle and pregnancy. The gingiva may become more sensitive, raising the risk of inflammation.
Some diseases – such as cancer, diabetes, and HIV are linked to a higher risk of developing gingivitis.
Drugs – oral health may be affected by some medications, especially if saliva flow is reduced. Dilantin (anticonvulsant), and some anti-angina medications may also cause abnormal growth of gum tissue.
Smoking – regular smokers more commonly develop gingivitis compared to non-smokers.
Family history – experts say that people whose parent(s) has/had gingivitis, have a higher risk of developing it themselves.
.
Diagnosing gingivitis
A dentist or oral hygienist checksfor gingivitis symptoms, such as plaque and tartar in the oral cavity. Checking for signs of periodontitis may also be recommended; this may be done by X-ray or periodontal probing.
.
READ MORE…
.
---