Is Teeth Whitening Right for You?
---
---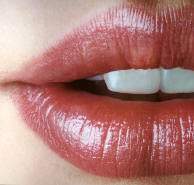 Advanced dental techniques now provide consumers with exciting, new options for enhancing their smiles. Revolutionary methods are now available for bleaching teeth to make smiles sparkle!
Teeth bleaching or whitening lightens the color of teeth whether darkened from age, coffee, tea or tobacco.
How successful?
Its brightening effects can last up to five years after the treatment depending on your personal habits, such as smoking or drinking coffee or tea. Bleaching has a higher than 90% success rate.
Bleaching is tough on stains but gentle on your teeth! Results vary depending on several factors such as teeth stained from smoking; from taking certain medications such as tetracycline during tooth development; or from fluorosis, a condition occurring in the presence of too much fluoride.
Bleaching will not lighten fillings or artificial materials used in dental repair as for crowns, porcelain veneers, etc. Your dentist may discourage treatment if you have sensitive teeth, periodontal disease, teeth with worn enamel or if you're pregnant or breast-feeding.
This is the precise reason why teeth whitening is a dental procedure and not a spa or salon treatment. Legislation is on the way to put a STOP to these fly by night companies or Beauty salons that offer teeth whitening. Too much is at risk to the uneducated client or patient and people should be more aware of these practices.
Many times clients or patients that desperately want white teeth, is not a good candidate for teeth whitening , and should rather have a proper whitening assesment from a dental professional to evaluate their problem.
Different whitening solutions:
Teeth whitening is also not just teeth whitening. A few options are available depending on your specific level of stain or biological make up of your teeth. A proper whitening menu should be available to help and treat all sorts of patients. From in office(POWER WHITENING) to take home and paint-on products are available. Which option is best for you? Without the necessary education and help, it is not easy to choose the right product.
For a WHITENING MENU please visit the following link:
https://myteeth.co.za/index.php/myteeth/secondary/teeth_whitening_menu/
---