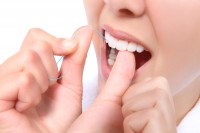 The main purpose of flossing is not to remove unwanted food particles between you teeth, but to REMOVE dental plaque.40% of all tooth surfaces are between your teeth that cannot be reached by brushing alone.
Leaving these areas unclean can result in:
Tooth Decay
Gum Disease (leads to tooth loss)
Bleeding Gums
Bad Breath
.
Flossing isA SKILLthat not everyone knows how to do. Removing food easy, but removing dental plaque requires practice and determination. People who suffers from bleeding gums or gum disease in general do not floss their teeth.
.
No more guessing… Let your String Sing!
.
Learn the CORRECT WAY to floss your teeth and remove Dental Plaque.
---