Maybe Flings isn't the best snack for your child?
---
---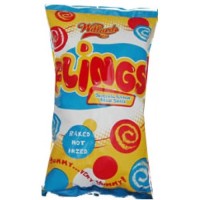 Monosodium Glutamate, or MSG as it is most commonly known as, is found in almost all convenience foods, fast foods and processed foods. It is used as a flavour enhancer in cheap, processed foods to make their taste more appealing. While making bland foods taste more appealing, this chemically structured ingredient is shown to cause neurotransmitter damage and is also linked to the skyrocketing cases of obesity we see today.
.
MSG was discovered in 1908 by Kikunae Ikeda, a Japanese scientist at the Tokyo Imperial University. He managed to isolate the flavour from a seaweed broth, and with the help of Ajinomoto Corporation of Japan, he patented it in 1909. It was then that it became available commercially for the first time. It is used in most restaurant cooking, especially in vegetarian dishes and low-protein foods. MSG masquerades on food ingredient labels under many names: including glutamic acid, glutamate, autolyzed yeast, autolyzed yeast protein, yeast extract, textured protein, monopotassium glutamate, sodium caseinate, natrium glutamate, flavours, so-called `natural` flavours, hydrolyzed corn, yeast food and ultra-pasteurized and any enzyme-modified ingredients. Many manufacturers of medications use MSG as a filler ingredient in tablets and other medications.
.
Even personal care products like shampoos, soaps and cosmetics are not exempt from containing MSG. Look for ingredients that include the words `hydrolyzed,` `protein` and `amino acids.`
.
MSG has been known to cause an extreme rise or drop in blood pressure, arrhythmias (irregular heartbeat), depression, dizziness, anxiety or panic attacks, migraines, mental confusion, stiffness, muscular swelling, lethargy, seizures, joint pain, flu-like body aches, chest pains, loss of balance, slurred speech, diarrhoea, stomach cramps, sneezing, nausea, vomiting, skin rashes, hives, blurred vision and difficulty in concentrating.
MSG is a glutamic acid which stimulates brain cell activity. This is why it is also known as an excitotoxin. Glutamates are responsible for the signaling of nerve impulses in certain neurons. Tests done in the 1950s showed that when rats were given a single dose of MSG, it destroyed the neurons in the inner layer of their retinas. The hypothalamus of the brain was also severely damaged in the process. It has been shown that humans are up to six times more sensitive to the effects of MSG than rats.
..
Evidence has shown that MSG disrupts the endocrine system and reduces the thermogenicity of brown fat while also suppressing the intake of food. In other words, even if you were to significantly reduce your caloric intake in order to lose weight, consuming any food which contains MSG or any of its derivatives would actually cause you to gain weight instead. MSG is definitely a food additive which should be avoided as much as possible, especially where children are concerned!
---