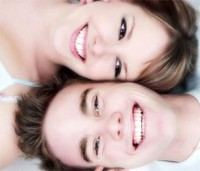 Regular Dental Visits and a scrupulous home hygiene program can keep your breath fresh and your smile sweet. How's your D.I.Q? (Dental Intelligence Quotient). Take a Quiz and find out…
Hover over pictures to view the answers.
.
1) When requiring cosmetic dentistry, the first procedure to do is:
a) Porcelain Veneers
b) Orthodontics
c) Teeth Whitening
d) Bonding
e) Root Canal Treatment
.
.
2) Risk factors for developing tooth decay are:
a) dry mouth
a) smoking
c) bad oral hygiene
d)a mother with active tooth decay
e) all of the above
.
.
3) The dark line that is sometimes visible above crowns is mainly because of:
a) metal in the crown that stained the gum line
b) old defective fillings
c) gum infection
d) gum disease
.
.
4) Gum disease is the silent disease that can lead to tooth loss. Which of the following is not a symptom:
a) bad breath
b) bleeding gums
c) yellow teeth
d) receding gums
e) mobile teeth
---