Canine Tooth Guidance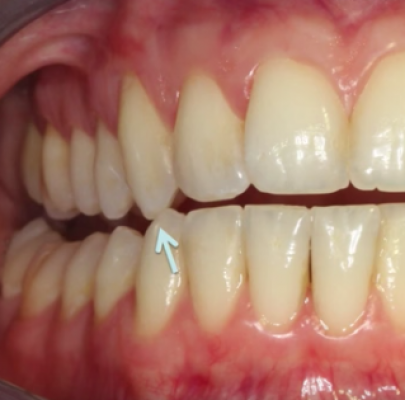 Our canine teeth play an essential role in guiding our jaws side to side to prevent excessive wear and fracturing of our other teeth. Molars are very strong in the up-and down biting movement during everyday eating and chewing, but NOT with lateral(side to side) movements.
The tips of our canine teeth are gold in protecting our other teeth against chipping and wear. When the tips of canine teeth wear away, cracking and fractures start to happen on the remaining teeth that initually get overlooked. If the damage is not fairly obvious or teeth become sensitive or break most people will not recognise the seriousness of the situation.

My front tooth keeps chipping
Ever been to the dentist for a front tooth and the filling now just keep coming off? Chances are that the problem all along was a loss of canine guidance and now any sideways movements of your jaws are causing the opposide teeth to 'ride' on the new filling. The solution will be to either shortens the filling beyond the point of interference or to create canine guidance.
To better understand the concept of canine guidance please watch the 2 videos below:
How to create canine guidance
The easiest way to create canine guidance is to rebuild the tips of your canine teeth with either resin(composite bonding) or porcelain. This is best done when your dentist plans exactely where to place these restorations by first taking dental impressions to make study models. The new canine tips are then build up with dental wax on the plaster models and from here it can be transfered to the mouth by either using resin or porcelain.
The new longer canine tips are now the first step in preventing further chipping or tooth wear and can almost be seen as your own build-in night guard or bite plate!
---