Clear Aligners - No Wires!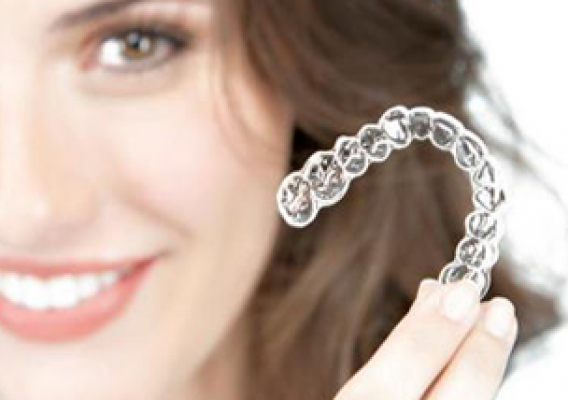 No Wires Please!
Orthodontics is the treatment of choice for correcting crooked teeth if the top priority is keeping your teeth natural and unaltered. Unfortunately many people reacts negatively to the prospect of wearing unattractive metal braces for long periods of time.

Now there is a new way... Clear Aligners!
Clear braces, adult orthodontics or Intelligent Aligner Systems (IAS) are all terms for the same system that can align the front 4-8 teeth in a more modern, aesthetic and faster way than conventional braces. Say goodbye to metal wires, metal brackets and the traditional 'metal-mouth' appearance. With clear aligners a series (2-6 pairs of trays) of thin see-through trays are worn over the teeth that move the teeth in a step-by-step approach to their new position.

How Can This Benefit Me?
The main advantage of clear braces is the cosmetic aspect. This makes it an unbelievable option for adults that often feel they do not want to wear metal braces. So many patients choose veneers, because they don't want traditional 'metal' braces. What if we could align your front teeth in 6-16 weeks? Did you know that all our teeth get more crooked over time? If that slightly skew central incisor is not corrected now, it will look worst by next year.
With Clear Braces Straigter Teeth Is Easier Than Ever Before!
It will Improve the aesthetis of your smile.

Very fast treatment. Can provide results in 6-16 weeks!

It will prevents crowding of your teeth that usually takes place with age.

It will prevents uneven tooth wear that accelerates with age. Skew and mis-aligned teeth often cause uneven tooth wear and showing early signs of wear facets and chipping.

It will avoids other corrective treatments in the future. With less wear, less future corrective dentisty will be necessary.

It will save tooth structure against unnecessary preparation for future veneer and other aesthetic dentistry.

Very skew teeth will require unnessary removal of healthy tooth structure when veneers or crowns are planned. With Clear braces as a first line of treatment, very little to no tooth structure will be reduced.
Although clear aligners can be used for many cases, not everyone will qualify. In some instances other short term solutions might be more applicable, including traditional braces. CLEAR BRACES offer an almost INVISIBLE system that straightens teeth FAST without any METAL.


For more on our CLEAR BRACES CONSULTATION click the below:
---