Brace Yourself to Go Wireless
---
---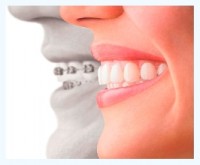 Get straight teeth with no braces!
Orthodontics is the treatment of choice for correcting crooked teeth if the top priority is keeping your teeth natural and unaltered. Unfortunately many people reacts negatively to the prospect of wearing unattractive metal braces for long periods of time. Now there is a new way:clear aligners!
.
HOW DOES IT WORK?
Your dentist will see you for a full dental exam (x-rays and dental impressions) to determine if you are a candidate for clear aligners. Clear aligners consist of a series of clear custom made trays. The dentist changes the trays every several weeks to fit the new tooth configuration.
.
Treatment takes 3-12 months depending on the situation.
No visible braces or metal.
The trays can be easily removed so you can eat and clean your teeth normally.
Provide stunning and satisfactory results.
.
PROBLEMS THAT CAN EASILY BE CORRECTED WITH CLEAR ALIGNERS?
Over Crowding (too little space for teeth to fit in)
Large Gaps between teeth Cross Bite (Some upper teeth bite inside the lower teeth)
Overbite (Upper teeth bite too far over lower teeth)
Underbite (Lower teeth cover upper teeth)
.
ARE YOU A CANDIDATE?
The main advantage of clear aligners is the cosmetic aspect. This makes it on unbelievable option for adults that often feel they do not want to wear metal braces. Although clear aligners can be used for many cases, not everyone will qualify. In some instances other short term solutions might be more applicable, including traditional braces.
.
CLEAR ALIGNERS offer an almost INVISIBLE system that straightens teeth FAST without any METAL.
.
.
To see if you qualify, you need to come and see us for afreesmile consultation.
What will happen during this FREEconsultation?
First you need to come and see us for a smile consultation where we will take impressions and x-rays of your teeth.
This will enable us to determine what option will work best for you PLUS work out a treatment plan and a more precise estimate.
What is the cost?
Everything depends on your unique problem and situation, but generally the costs is +-* R12 000 for upper and lower jaw. (* 2012 pricing)

Please phoneus on 021 5573427 and ask for your FREE SMILE CONSULTATION.
Also see this link to learn more about our smile consultations:
/blogs/post/do-you-want-a-better-looking-smile
For more information visit our website at https://myteeth.co.za/index.php/myteeth/secondary/contact_us/
---