Composite Fillings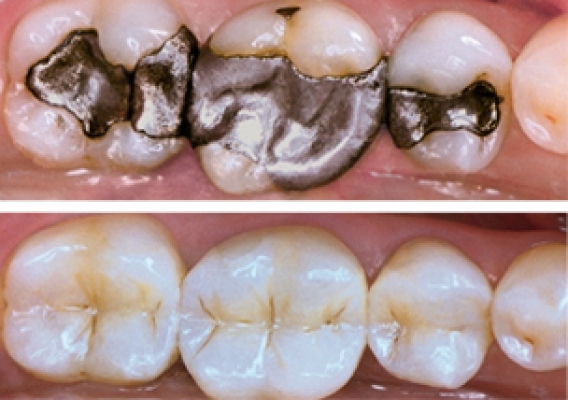 Say goodbye to your old ugly metal (amalgam) fillings!
The days of metal (amalgam) fillings are long gone. Although they still exist, we have so many more cosmetically pleasing options of which composite fillings are one. The 2 most popular white materials are porcelain and composite(resin). A good analogy is the building industry where composite is the cement and porcelain the tile.
What Are Composite Fillings?
Composite is a filled resin material with almost the same workable characteristics as clay, making it easy to shape teeth almost any way we like. As in the photo, metal (amalgam) fillings are replaced by white composite fillings.

Indications Of Composite Fillings:
Replacement of small to medium-sized metal (amalgam) fillings

Restoring small to medium-sized cavities.

Closing food traps that cause irritation and gum problems.

Fill in yellow areas of wear and tear (biting surfaces of lower teeth)

Cover open tooth neck areas that are unsightly and sensitive

Replace previously stained restorations

NEW!! With the new fiber-reinforced resin fillings, larger restorations are now possible

Advantages Of Composite Fillings
Same colour as natural teeth

Short term alternative to crowning or porcelain inlay / onlays

Permits less tooth structure reduction than conventional fillings

Bonds chemically to tooth structure and eliminates unnecessary drilling
Although these composite fillings are more prone to staining and chipping than more expensive options, they provide excellent results and repairing them is just as easy!

To see if Composite Fillings are an option for you, take the SMILE ANALYSIS.


Also see COSMETIC DENTISTRY
---